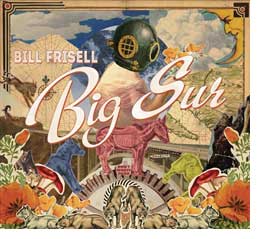 Bill Frisell ~ Big Sur (2013)
Label: Okeh Records
Review by Thom Jurek
Bill Frisell's Big Sur, on Sony's resurrected Okeh imprint, collects 19 individual pieces in a suite commissioned by the Monterey Jazz Festival. He spent ten days in retreat at Big Sur's Glen Deven Ranch, where he composed most of it.
His band on this date is the string trio responsible for his Beautiful Dreamers recording -- Jenny Scheinman: violin; Eyvind Kang: viola; Hank Roberts: cello, and drummer Rudy Royston. Kang and Royston are also members of Frisell's 858 group, making this an unorthodox string quartet with drums. Those drums not only keep things grounded and earthy, they add force, dimension, and dynamics even on the ballads.
As is typical for Frisell's ensembles, it's not about soloing so much for these players -- though all are given opportunities -- as the strength of the work through the voice of the group, with Frisell's guitar as the unifying factor, whether it's in the opening waltz "The Music of Glen Deven Ranch," the slowly unfurling, darkly tinged ballad "Going to California," or "The Big One," which references surf rock.

There is a five-note vamp the guitarist uses in several pieces here as a way of bringing the listener back to the fact that despite the varying nature of these pieces, they make up a significant whole. "We All Love Neil Young" is a duet for Frisell and Kang with the violist taking up the "vocal" part as the guitarist fills and weaves through his lines.

The gradually unfolding nature of "Highway 1" is an excellent and wonderfully quirky showcase for Scheinman and Kang in dialogue, and for the staggered use of dissonant harmony as Frisell's effects. The title track is a wonderful showcase for Roberts, while "The Animals," though brief, offers fine interplay between the violinist and violist as they weave through Frisell and Roberts with a Celtic-tinged folk music.

"Hawks" is the most driven thing on the record, though it flirts with classical and folk music by turns, and in and out statements by all group members, driven by Royston, offer a deft quickness that gives the impression of flight.
While the aforementioned tracks are noteworthy examples, this hour-long work is at its absolute best when taken as a whole. On Big Sur, Frisell delivers an inspired musical portrayal of the land, sky, sea, and wildlife of the region with majesty, humor, and true sophistication.

FAIR USE NOTICE
This article contains copyrighted material - the use of which has not always been specifically authorized by the copyright owner. We are making such material available in our efforts to advance understanding of environmental, political, human rights, economic, democracy, artistic, scientific, and social justice, etc. We believe this constitutes a 'fair use' of any such copyrighted material as provided for in section 107 of the US Copyright Law. In accordance with Title 17 U.S.C. Section 107, the material on this site is distributed without profit to those who have expressed a prior interest in receiving the included information for research and educational purposes.
For more information go to: http://www.law.cornell.edu/uscode/17/107.shtml.
If you wish to use copyrighted material from this site for purposes of your own that go beyond 'fair use', you must obtain permission from the copyright owner.