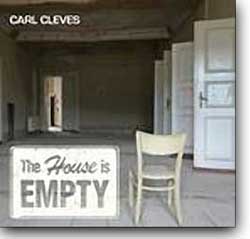 Carl Cleves - The House is Empty (2012)
Carl Cleves' new solo CD, The House is Empty will be released on 12 June 2012. Recorded in Australia and Holland and mastered in Amsterdam, it is quite a departure from Carl's earlier CDs Out of Australia and All alone.
The House is Empty features 11 new songs and one hauntingly nostalgic reworking of a classic Jacques Brel song, the most famous singer-songwriter to emerge in Belgium during the second half of the 20th century, with whose music Cleves grew up.
I was captivated from the first notes of La Chanson des vieux amants and I've listened to the album over and over ever since.
Cleves' guitar-based songs of sorrow, redemption and loss are enhanced by some fine musicians: Australian guitar legends Jim Kelly and slide player Kirk Lorange; Dutch musicians include guitarist Michiel Hollander, who mixed the album, and bandoneon player/ percussionist Marc Constandse from the group Big Low, vocalists Parissa Bouas, jazz singer Leigh Carriage, and trumpet player John Hoffman among others.
Carl Cleves, originally from Belgium, is a contemporary of Bert Jansch, Nick Drake, Paul Simon, John Martyn and other great songwriters that emerged in the 1960s and 70s and with whom he shared the stages of the London folk clubs during the time of the folk boom. But, unlike the others who stayed in the scene, Carl's wanderlust led him to a life of travelling, guitar in hand, to Africa, Asia, the Pacific, South America and Australia, where he has now settled. Along the way he has acquired a loyal following in Europe, Brazil and Australia while avoiding the radar of the international music industry. 'A legend? Hardly, I'm a rumour, a whisper' he says.
Cleves has won the coveted Australian Songwriter's Assoc. Award for Best Lyrics and Best Folk Song, the national MUSICOZ award for Best Folk Song and has a shelf full of Dolphin Awards. He has recorded 4 albums with the group The Hottentots, which he co-founded with Parissa Bouas. His recent solo CD's are: All Alone 2007; Tarab 2008. Cleves' first book, TARAB: Travels with My Guitar, recountind his adventures as an antelope trapper in Uganda, relief worker in cyclone struck India, recording star in Brazil, radio broadcaster and ethnomusicologist in Africa. was published in July 2008 by Transit Lounge.
Carl's new offering is a real feast for the ears. The bottom line is that this is a great album by a consistently strong artist. This album stands on its own and would be a great introduction to his music. The eleven tracks penned by Cleves and the beautiful interpretaion of Brel's classic La Chanson des vieux amanitas provide more than enough sonic and lyrical gems to satisfy.
It is distributed in Australia on Vitamin records. Highly recommended.

Review by Ben Kettlewell

Contact:
Carl Cleves
PO Box 1492 Byron Bay, NSW, Australia
+ 61 2 5613 0031
http://www.carlcleves.com/
carl@carlcleves.com