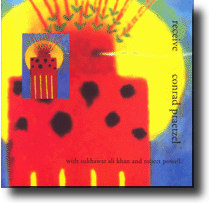 Conrad Praetzel
'Receive'
(Paleo Music 4004-2)

This is the latest album by sound designer, sampling wizard, keyboard player, and percussionist, Conrad Praetzel. It is aptly described as an East/West blend of spirit and groove. He is joined by Sukhawat Ali Khan on vocals, Robert Powell on guitars, dobro, pedal steel, and electric sitar, Solomon Feldthouse on oud and ney flute, and Sachiko Kaneobu on vocals.
The album is a combination of spellbinding vocals and compelling percussion that compliment the more western instrumentation , together creating a unique hybrid of world inflences, western tonalities, and irrestible electronic textures.
You may remember the exquisite instrumental music of Conrad Praetzel from his earlier releases, like 'En-Trance', 'Myths and Memories', and 'Between Present & Past'. With the release of 'Receive' and the wonder of Sukhawat Ali Khan's soaring voice added to the lush arrangements, Praetzel's new music will knock you off your feet. It's bright clear music, played with conviction. Smooth, subtle and unobtrusive, yet at the same time sonically complex and illuminating, the album is both mysterious and powerful, a journey into a forest of exotic sounds.
Review by Ben Kettlewell
information:
email: conradp@emu.com