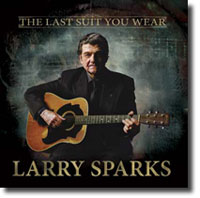 Larry Sparks ~ The Last Suit You Wear
Release Date: May 01, 2008
Bluegrass music is now almost 60 years old, and it has become clear that within the music there are only a small handful of major stylists. Larry Sparks is one of the few who has created a style while remaining true to the best traditions of bluegrass. One of true legends of American bluegrass, Larry Sparks raises the bar once again. Among the stellar group of musicians joining Larry on this incredible new release are one of the most distinguished practitioners of traditional bluegrass, Del McCoury, who was the epitome of the "high lonesome sound" for over four decades, J.D. Crowe, who was one of the most influential progressive bluegrass musicians of the '70s, andlast, but not least, ... perhaps the greatest session pianist/keyboardist ever to grace a Nashville recording studio, the one and only, Hargus "Pig" Robbins.

The CD is due for release in early May on the McCoury label, produced by Don Rigsby and Larry Sparks.
At his age, some artists would probably be content to take the triumph of two consecutive years of top industry awards as the equivalent of a gold watch and chain, but that's not Larry Sparks' style. Named as the International Bluegrass Music Association's Male Vocalist of the Year in 2004 and 2005—and as winner of both Album of the Year and Recorded Event of the Year honors in the latter for the star-studded 40—the legendary veteran returns on [date] with The Last Suit You Wear, his debut for Del McCoury's McCoury Music label. Wrapping his warm yet mournful voice around a choice collection of new songs and showcasing his distinctive, muscular guitar picking with the help of a crackerjack core band and a sprinkling of carefully chosen guests like McCoury, country piano legend Hargus "Pig" Robbins, and IBMA Hall of Honor member J. D. Crowe, The Last Suit You Wear makes a powerful case that, when it comes to Larry Sparks' music, the best is yet to come. As one rising young bluegrass artist put it recently, "if the IBMA were to give an award for just being 'The Man,' Larry Sparks would win it every time."
Indeed, if Larry Sparks is only now, in the wake of 40's success, becoming known to audiences beyond the hardest of the bluegrass hard-core, it's surely for purely circumstantial reasons. Born in Lebanon, Ohio in 1947, he's chosen a quiet life in semi-rural southeastern Indiana, emerging only to hit bluegrass festival stages and occasional clubs in what have amounted to lightning campaigns. Sparks leaves it to others to make the media rounds and promotional tours, and has always tended to let his music speak for itself—but for those who listen, it has told a story that runs like an unbroken thread through more than 40 years of bluegrass history.
A musician by the time he started high school, Larry Sparks stepped into the history books and into the heart of the music when he began making appearances as the legendary Stanley Brothers lead guitarist before graduation. With the death of Carter Stanley in 1966, he became Ralph Stanley's right-hand man, moving into the Clinch Mountain Boys' all-important guitarist and lead singer role and carrying on the Stanley sound even as he began to make his own contributions. Three years later, he formed his own band, the Lonesome Ramblers, and quickly became favorite of the growing audience in the "Bluegrass Belt" that stretches from the Mississippi River through Illinois, Indiana, Ohio, Kentucky and on across to the powerhouse bluegrass area around Baltimore and Washington, DC. Developing his bluesy, signature guitar licks and resonant, soulful voice into the building blocks of a traditional, yet immediately identifiable personal sound, he recruited up-and-coming players like mandolinist Wendy Miller and banjo man Dave Evans and produced a steady stream of gripping albums, culminating in a pair of late 70s masterpieces: John Deere Tractor, which made instant classics of, among others the title track, Allen Mills' "Love Of The Mountains," "The Girl At The Crossroads Bar" and Keith Whitley's "Great High Mountain" (personally handed to Sparks by its writer), and Larry Sparks Sings Hank Williams, which revealed Sparks' profound affinity not just for The Drifting Cowboy's legacy, but for the enduring simplicity of classic country sounds.
While "progressive" sounds dominated the bluegrass scene in the 1980s, Sparks remained true to his singular artistic vision, training younger musicians like banjo virtuoso Scott Vestal and Nashville studio fiddler Glen Duncan in the discipline of the Lonesome Ramblers sound. His perseverence was rewarded early the following decade, when he released another gem for the ages in Silver Reflections (1991). Featuring mandolinist David Harvey (Moody Bluegrass, the Claire Lynch Band), banjo man Barry Crabtree (Wildfire), the album created another set of instant classics, including "Tennessee 1949," "Blue Virginia Blues" and "Don't Neglect The Rose," and as traditional bluegrass began to make a comeback, Sparks' lonesome sound and sternly personal approach to music and career drew new and renewed admiration. By the end of the decade, he could look back on such highlights as appearances on Ralph Stanley's star-packed Saturday Night, Sunday Morning; on Austin City Limits' 1995 "Bluegrass Special," where he was teamed with Stanley and fellow Clinch Mountain alumnus Ricky Skaggs; and at the 1997 Bill Monroe memorial show that resulted in the CD/DVD release The Legend Lives On: A Tribute To Bill Monroe. By the middle of the next tune, the homage paid by generations of bluegrass and country stars on 40 had finally helped to carry him to the prominence he'd long deserved.
The Last Suit You Wear makes a compelling case that Sparks not only deserves his accolades for past performances, but that he's at the peak of his creative powers. Where 40 recapped many of his great hits of the past with contributions from admirers, the new collection looks to the future with a set that's short on career nostalgia and heavy on new songs that fit him like a glove. As always, there's room for powerful stories like Connie Leigh's moving "Casualty Of War," Mark Brinkman's opening "The Old Coal Mine," and Tim Stafford, Larry Cordle & Bobby Starnes' retelling of the first Christmas, "Follow The Star," while long-time favorite writer Marshal Warwick returns with the near-autobiographical "I'm Country And Nothing More." Sparks' gift for the traditional "heart songs" category is given free rein on both modern and classic-sounding entries like "For Your Love," "Hand In Hand," and "Those Blue Eyes Don't Sparkle Anymore," and a nod goes both to the singer's past (a remake of "Goodbye, Little Darlin'," which he first recorded some 35 years ago) and to his picking prowess, displayed on Sparks' own Latin-tinged "Larro."
Yet while the new project is of a piece with the best of Larry Sparks' earlier work, there are some distinctive new touches, too. The title track, penned by award-winning songwriters Larry Shell, Larry Williams and Kim Williams, offers a hushed, profound meditation on life lessons that's filled with Sparks' own hard-earned wisdom, while the singer fulfills a long-held dream by bringing in the legendary Hargus "Pig" Robbins to add piano to "The Last Suit You Wear" and two others. Producer/mandolin player Don Rigsby thoughtfully blends members of the Lonesome Ramblers, including Sparks' son Dee, mandolinist Jackie Kincaid and youthful banjo picker Josh McMurray, with instrumental stars like banjo/fiddle phenom Ron Stewart, hot dobro picker Randy Kohrs and fiddle master Stuart Duncan, and a couple of inspired guest turns by J. D. Crowe and long-time friend and admirer McCoury. Yet as stellar as their contributions are, the spotlight's always where it needs to be, on the quiet power of Larry Sparks, guitarist and master singer.
Memorably crafted and brilliantly performed, The Last Suit You Wear is destined to become a bluegrass classic.[
Track Listing:
1. The Old Coal Mine
2. Casualty Of War
3. For Your Love
4. Lazarus And The Rich Man
5. I'm Country And Nothing More
6. Pretty Girls
7. The Last Suit You Wear
8. Goodbye Little Darlin'
9. Follow The Star
10. Larro
11. Hand In Hand
12. Those Blue Eyes Don't Sparkle Any More
More information:
http://www.thebluegrassblog.com/tag/larry-sparks