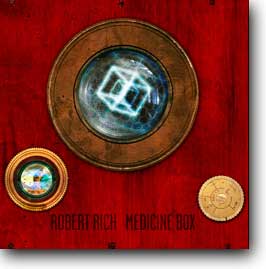 Robert Rich – Medicine Box (2011)
Label: Soundscape – SP022
Ambient icon Robert Rich strikes back with brand new sonic pearl "Medicine Box", released at November 1st, 2011, on his own Soundscape Productions imprint.
Following the footsteps of legendary albums like "Propagation", "Seven Veils" or more recent "Ylang", this new album bridges all trademarking ingredients of these masterworks, but also adds other unique and challenging flavors. "Medicine Box" unwraps with "Alba", a sublimely euphoric blend of world fusion and ambient, it's attractively perfumed and richly textured warm, rhythm-charged composition featuring as guest Haroun Serang on guitar, who already contributed to several other Robert's albums.
Intro with very intoxicating melody! "Kaaruwana" brings to the stage shimmering wordless voices of Cheri Chuang, a classically trained composer and vocalist, moving from absolutely ethereal and angelic to fragilely whispering ones, beautifully interacting with Robert's crystalline soundscaping, a truly poetic bliss for my ears!!! Strongly organic and colorfully unique "Macula" is dominated by evocative gentle piano and crispy pulsing percussions with notable appearances of Hans Christian on cello (long time collaborator of Robert Rich) and Edo Castro on bass. Chromatic harmonica of Slim Heilpern wonderfully spices "Cornea" and adds western feel to this rather psychedelically eclectic composition. "Crepescule" succeeds magnificently in portraying the power and beauty of Robert's flute magic, with subtle polyrhythms that are joined by poignant cello and cheerful piano.
A truly haunting masterpiece evoking yearning and nostalgia!!! "Pollen" is another emotionally moving and heartwarming composition highlighted by Cheri Chuang's heavenly voices and exotic-charged subtle movements. "Callyx" masterfully fuses sensitive melodies with eerie lap steel guitar ambiences. Denser landscapes are explored through "Salamander Quay", showcasing Robert's outstanding skill in expressing emotions through his electroacoustic wizardry and musicality.
The journey culminates with almost 11 minutes long epilogue "Helios", painted with magnetizing exotic polyrhythms in the first half, while the second part excels with celestial voices floating above shadowy sonic panoramas. I think this composition displays the best Robert's distinctive sound painting with carefully selected and merged virtuoso performances of Cheri Chuang, Hans Christian and Edo Castro.
An absolutely magnificent "all inclusive" blend holding the signature that is only Robert Rich and designed directly for my Ambient Hall Of Fame!!! "Medicine Box" is an ultimate and triumphant shamanistic healing journey with genius performances on every level dedicated to all connoisseurs of world fusion/tribal/ambient essentials!!! Audiophile sound quality and gorgeous 6-panel digipak artwork by the Bergin gang should be immediately awarded too!
Review by R. Gurtler